IMA offers support for international MedTech companies entering the UK
 Why come to the UK?
The NHS is the most recognised and respected healthcare system in the world and selling into this organisation helps opens up new markets across Europe, the Middle East and the Commonwealth.
The NHS is the World's largest publicly funded healthcare system and deals with over 1 million patients every 36 hours; accordingly, the opportunity for sales is very large.
The NHS is actively looking for new technologies through the National Institute of Clinical Excellent (NICE) Medical Technologies Evaluation Programme (MTEP) that provide benefits to patients and the health and social care system over current practice
The UK medical devices market is growing as the NHS looks for new, less invasive, lower cost and better outcome solutions.
The NHS has a major productivity challenge and products that save money have a huge opportunity provided they are presented in the proper manner
Be prepared
The NHS is a complex organisation and it's important for MedTech companies to achieve the green traffic lights shown in the following IMA slide.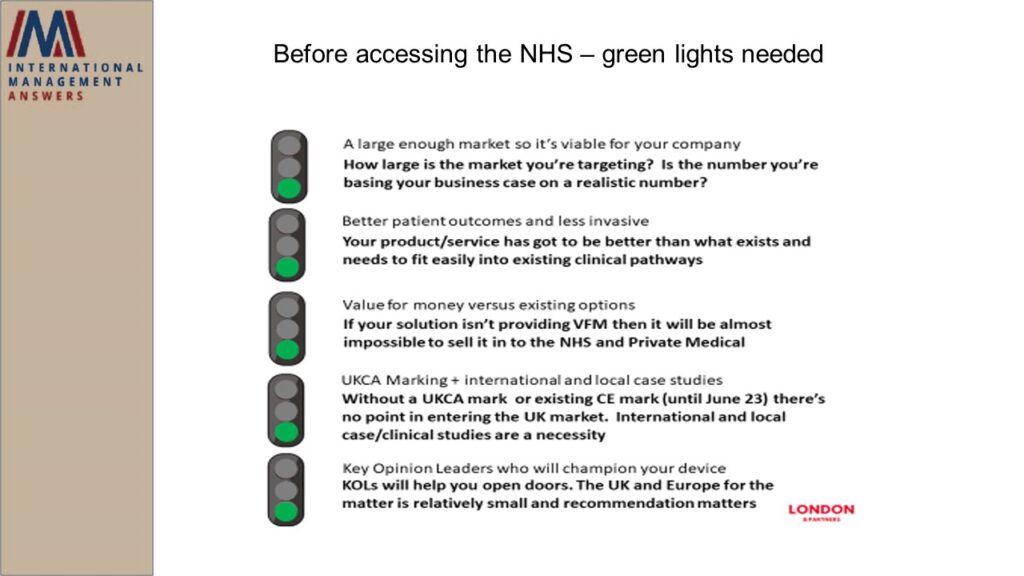 Options available from IMA
IMA is a dynamic, one stop shop for US Medical Device companies wanting an effective and timely launch in the UK. IMA's services range from:
Market Access Consulting
The following is a generic project for an international MedTech company looking to access the NHS and UK Private Healthcare sector :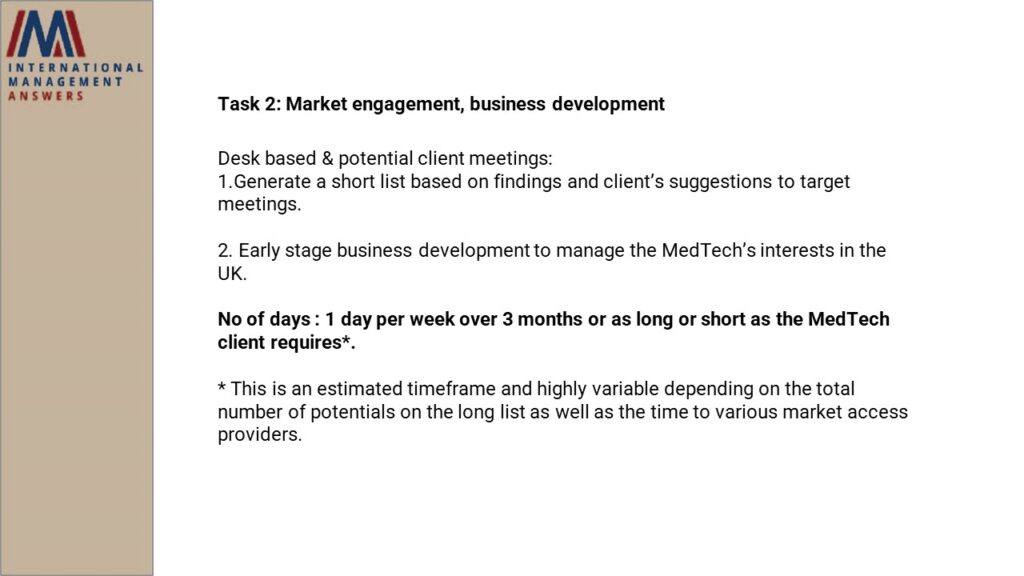 Complete Turnkey Solution – working alongside Richard Tuson, Managing Director at Health Analytical Solution we are able to provide NHS market access and reimbursement consulting, the provision of NHS data on procedures by geography and waiting times, outsourced sales and logistics & operations.
Outsourced Sales – using a Professional Employee Outsourcing (PEO) model whereby the Sales Team and support staff, such as clinical staff are dedicated to a specific Medical Device client. Local Sales Management, CRM set up to allow remote access, Marketing/Exhibition and Social Media management and delivery is available to assist our client and the local sales team (if required).
Support for Medical Device Companies setting up their own UK operation – IMA can provide Outsourced HR and Relocation support.